Kippot personalized to distinguish, yourself or your guests!
---
Today you can stand out from the crowd with a personalized kippah from Small Signs! Or… if your current kipah is boring you and wen you go to shul, the back of your head look the same as everyone else… It really doesn't have to be that way! Keep the mitzvah and keep up with fashion with a Small Signs yamaka! At Small Signs we make personalized kipot in single or bulk orders.
You can choose between satin and suede personalized kippot. Our satin kippahs are the green alternative to suede. Not only are the satin kippas stunning, but they are also 100% vegan (containing no animal products). Unlike suede, they are eco-friendly and suitable for use during Yom Kippur, as on this holy day the Torah doesn't allow to wear leather garments.
Choose between two elegant styles:
Photo, logo or text: we print the digital image of your choice on one or more of the four kippahs panels. Our custom printed kippot make a lot of fun at Bar/Bat Mitzvahs, weddings, anniversaries or any other simcha. Price is calculated according to the quantity of kippahs printed with the same image.
See many more samples in the Printed Kippah Gallery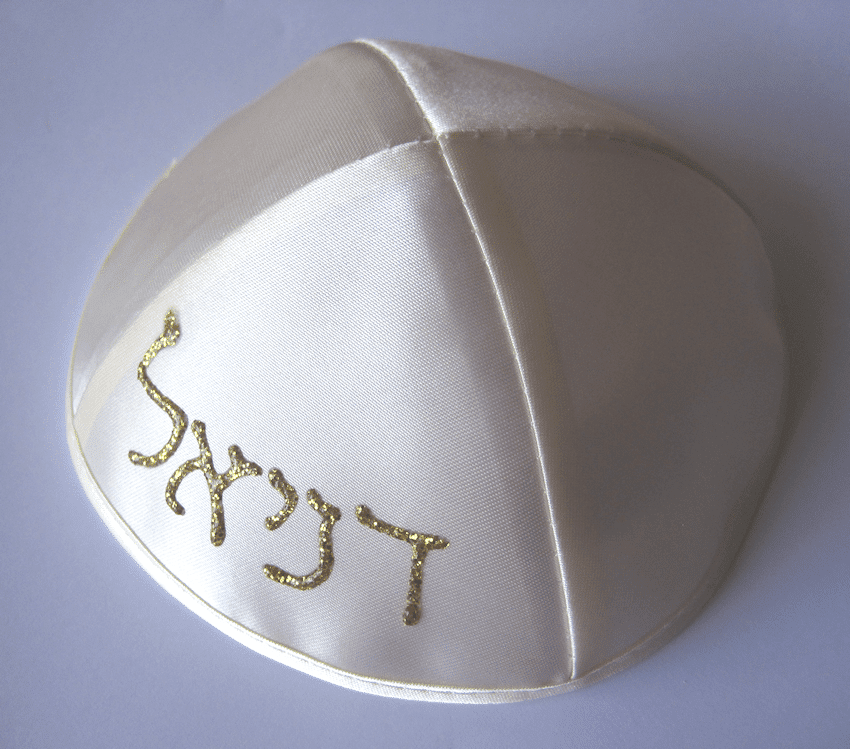 These charming satin or suede yarmulkes, are hand- scripted using Tulip™ fabric paint, and decorated with names, dates, phrases. This personalized style is simple, budget-friendly and perfect for small quantity orders, such as for your seder guests, small wedding orders, family reunions…
See many samples in the Name Yarmulkas Gallery
---
Personalized Kippot: Printed Kippot | Name Yarmulkes | Shipping Cost | Colors & Sizes