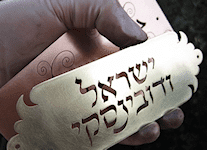 Oou metal plaques are made in three different techniques according to the size of the plaque and the quantity in the order:
CNC cutting: For signs up to 50 x 33 cm. CNC cutting is done in our studio in Harashim. The metals we cut are Aluminum 2 mm. thick, Brass and Copper 1.5 mm. thick.
Laser cutting: For Plaques bigger than 50 x 33 cm or in case of large orders. The metal that can be cut are aluminum, iron, koraten, stainless steel, Brass, Copper, even at larger thickness. After the graphic is prepared, we transfer it to laser cutting files and send it to a metal cutting plant in the north .
Hand sawing: Hand made technique used for cutting smaller plaques or to make the finish of larger ones.
Handwriting: If you chose one of our house-fonts, the writing of the text is done manually using a fountain pen. The art work is then scanned and converted to a file for CNC or laser cutting, or hand sawing.
Hand finish: All the finishing work of our metal plaques is hand made using sanding paper, brushes and rubber disks.
Sand Blasting: Used for the preparation of the metal surface of copper and brass plaques designed to be darkened over time.
Aluminum resistance: Excellent – the metal does not change over time.
Durability of brass and copper: The metals darken over time, faster when mounted under weather conditions, but they can be polished manually from time to time to preserve the original shine.
See also: properties of Metal Types.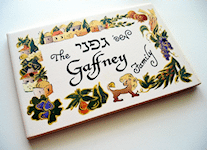 Ceramic signs of small signs are divided into two main categories:
Technique: Hand drawing and writing, scanned and printed on off-white tiles.
Maximum size: 20×20 cm.
Durability: In a covered location or indoor, for decades. Outside colors will begin to fade after about 5 years.
Technique: Hand drawing of both, writing and decorations, on white ceramic tiles and burning in a high temperature ceramic kiln furnace.
Maximum size: 40×20 cm. and you can also connect a number of tiles containing one design.
Durability: Without limitation.
---
The drawing is done in pencil on the stone. Letters and decorations are then sculpted with a hammer and manual chisel (see videos on Jerusalem Stone Signs page).